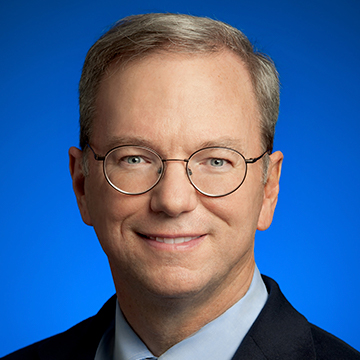 Eric Schmidt
Technical Advisor to Alphabet, Inc., a Member of its Board of Directors, and former Executive Chairman
Eric Schmidt is Technical Advisor and Board Member to Alphabet Inc., where he advises its leaders on technology, business and policy issues.
Eric joined Google in 2001 and helped grow the company from a Silicon Valley startup to a global leader in technology. He served as Google's Chief Executive Officer from 2001-2011, and Executive Chairman 2011-2018, alongside founders Sergey Brin and Larry Page.
Eric serves on the boards of The Mayo Clinic and The Broad Institute, among others. His philanthropic efforts through The Schmidt Family Foundation focus on climate change, including support of ocean and marine life studies at sea, as well as education, specifically cutting-edge research and technology in the natural sciences and engineering. He is founder of Schmidt Futures, which helps exceptional people do more for others by applying science and technology thoughtfully and working together across fields.
He is the co-author of The New Digital Age, How Google Works, and the new book, Trillion Dollar Coach: The Leadership Playbook of Silicon Valley's Bill Campbell.