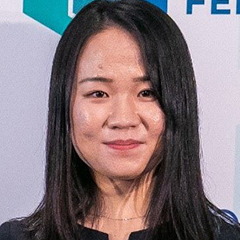 2018 Fellow
Xiwen Gong
Chemical Engineering, Electrical and Computer Engineering, Soft Electronics
Xiwen undertook her PhD at the Sargent group at the University of Toronto, having moved to Canada from China. At Toronto, she explored luminescent nanoparticles, known as colloidal quantum dots, which have applications in converting light into renewable energy and developing efficient light sources. As a Schmidt Science Fellow, Xiwen worked at Stanford University applying machine learning techniques and photonics expertise to advance progress in flexible electronics. She continues her work at Stanford University on an Additional Study Grant supported by Schmidt Science Fellows.
Xiwen has a faculty position at the University of Michigan where her research group innovates soft electronic materials, including nanomaterials, polymers, and perovskites from the molecular level, understand their fundamental properties using advanced spectroscopies, and advancing the next generation of bioelectronics for the applications in biomedical sensing, soft robotics, energy harvesting, and storage.
The importance and potential impact of Xiwen's work is nearly impossible to overstate. The global growth in demand for cheap and flexible renewable energy is proving relentless and is a necessity for the global economy to move away from fossil fuels. Xiwen's work as a Fellow aimed to develop low-cost, large-area, and stretchable devices including efficient solar cells, light sensors, and light emitters. This work continues to open the potential for many far-reaching applications, including wearable electronics and artificial skins.