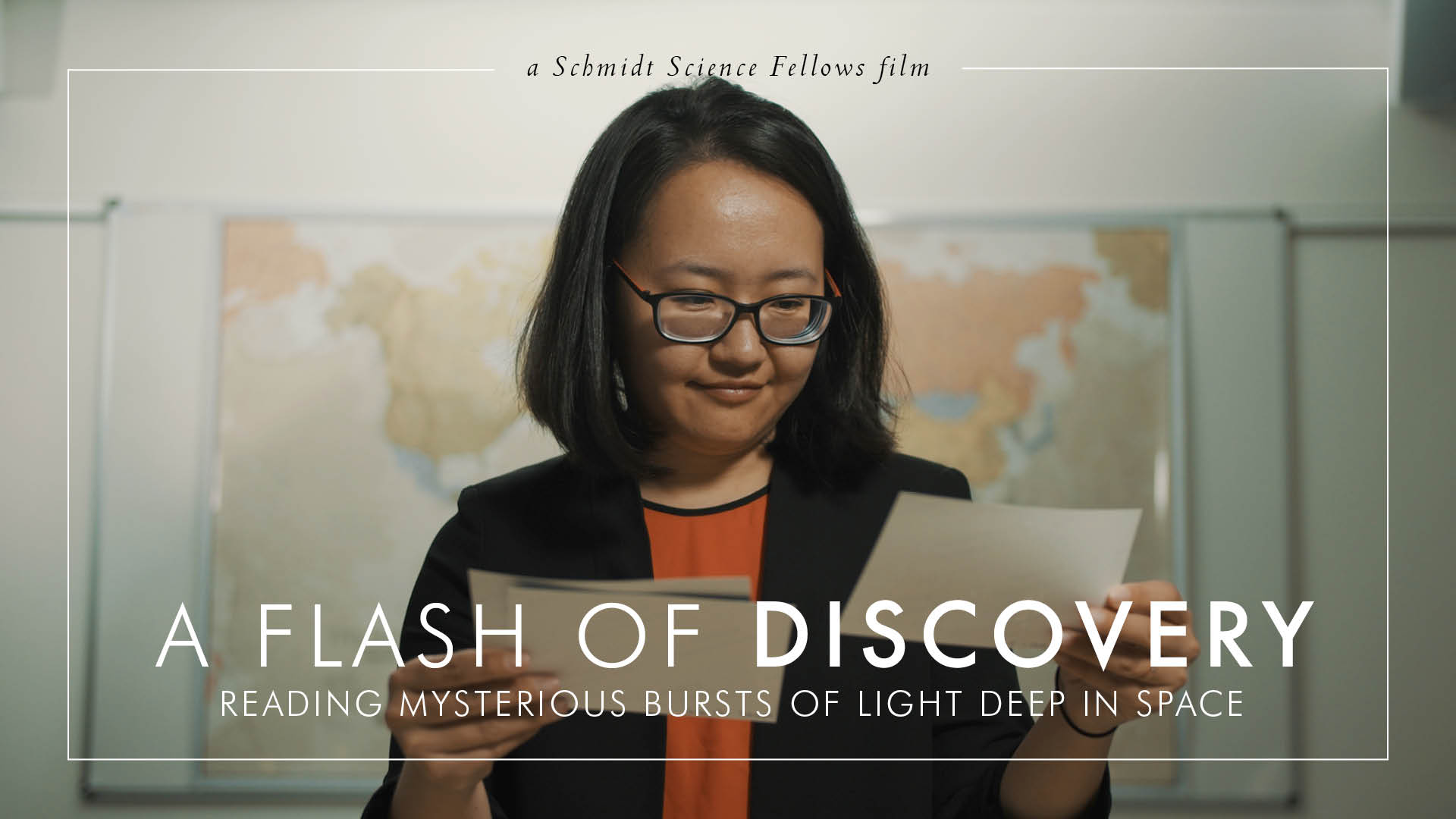 Risk-taking means different things to different people. When a scientist takes a risk with their work, what are they putting on the line? It could be months of effort, their reputation, or the next career step. 
But with risk, comes reward. When scientists pursue ambitious, risky science, where there is no guarantee of success, no easy publication, they are not being fool-hardy. They are prepared to push the boundaries to advance frontiers more quickly. Ultimately, they are more likely to benefit society.
Schmidt Science Fellows works to encourage scientific risk-taking by our Fellows. By helping them gain the skills they need to succeed, we provide the confidence and resilience for a Fellow to take on more stretching targets. By building a community of like-minded and committed peers, surrounded by diverse supporters, we create a support network to encourage, advise, commiserate, and celebrate.
Dr Jielai Zhang, 2018 Schmidt Science Fellow, has all the traits of a born scientific risk-taker. This is no surprise if you dig into her background and her upbringing. Born in Shanghai, China, Jielai moved to Sydney, Australia when she was 8-years-old. She achieved an undergraduate degree in Engineering and Science, majoring in Math and Physics at the University of Sydney before crossing continents to take a PhD in astrophysics and astronomy at the University of Toronto. Jielai then seized the opportunity to become one of the first Schmidt Science Fellows in 2018, shifting her focus to work on biomedical imaging at IBME at the University of Oxford. Her combination of curiosity and an appetite for taking risks has now taken her to the cusp of her next leap – starting a new job this week discovering how the Universe changes on timescales of seconds. 
My mum, grandad, and dad have inspired me to be more of a risk taker. My mum moved away from home at the age of 16 to attend university in order to explore the world, in a society where global travel only existed in novels. Her willingness to seek and learn new ideas and adapt an open mind set to value others opinions are what has inspired me to keep pushing my boundaries. My grandfather opened private schools in China challenging and deploying new methods of teaching which effectively increased student's grades. My father took the risk of moving to Australia five years before my mum and me.
My own risks are evident in my work and began when I travelled to Canada for my PhD at the University of Toronto in Astrophysics and Astronomy. I was part of the Department of Astronomy and Astrophysics, the Dunlap Institute for Astronomy and Astrophysics and the Canadian Institute for Theoretical Astrophysics. During my PhD, I built a new telescope using an unproven novel design. The unknown factor was worth the risk and I did not shy away. I wanted to explore faint galaxies that nobody had looked at before and we had to build a new telescope to see it – this was a risk in itself. Looking back, I am very happy I took it.
At the end of my PhD, I become interested in a new field of astronomy called time domain astronomy. This looks at how the Universe changes on a very fast time scale. The constellation in the sky used for sailing 1,600 years ago is the same today but the sky is also changing on very fast time scales – we just did not know about it before. We're talking days, minutes, seconds or less. 
"The Schmidt Science Fellows placement year makes taking risks and aiming for more ambitious scientific objectives easier. I received advice from my mentors and guidance from my family of Fellows."
The Schmidt Science Fellows placement year makes taking risks and aiming for more ambitious scientific objectives easier. I received advice from my mentors and guidance from my family of Fellows. Taking a year out of research in astronomy to do something completely different in this early stage in my career is difficult, but the design of the Schmidt Science Fellows program made me want to take this risk because the people in the Fellowship have created a prestigious program and I could tell their approach to science was worth the risk. Being on my own for a year and navigating my own choices with research has made me a mature researcher, and I have practiced, and have a better understanding of what it means to do self-directed research and learning. 
The new field of astronomy I now work with requires very fast exposure times which acquire a lot of data so I had been looking into new techniques, methods and tools from other fields that I could apply to this huge data volume in astronomy that we haven't had to deal with before. That's when I came across medical imaging, deep learning and machine learning. I zeroed in on medical imaging as I started to look into it because of the way it applied a method called deep learning which I felt was useful to astronomy. I was intrigued to learn more and then I came across the Schmidt Science Fellows program which would allow me to pivot for a whole year into another field rather than learning slowly on the side which is what I thought I may have had to do. The program would allow me to get face to face exposure to people in the field that I wish to learn more about and that's why I applied. 
 "I wanted to explore a new field of astronomy, and Schmidt Science Fellows helped me gain invaluable skills that will allow me to advance this field."
Jielai's next adventure will be a move back to Australia to work with a group exploring how the Universe changes on timescales of seconds. She will study this using a combination of telescopes and gravitational wave detectors. Gravitational waves were predicted by Albert Einstein but only directly detected for the first time four years ago. The next step is to use our new window into the workings of the Universe to develop new astrophysics.
I am starting my new role at Swinburne University of Technology in Melbourne this week, working at a government-funded centre called the ARC Centre of Excellence for Gravitational Wave Discovery, or OzGrav for short, for three years. 
The initiative I will be most heavily involved in at OzGrav is called the Deeper, Wider, Faster program led by my PI, Jeff Cooke. The program is essentially making very sensitive and detailed movies of the active Universe with a new observing method designed to study how astronomical phenomena changes on timescales of seconds. 
My role will allow me to use the image processing techniques I established during my Schmidt Science Fellows placement year on the data coming out of this new field of astronomy. 
Jielai is committed to further the global impact of her science and reaches out beyond the usual audiences. 
I have been involved in the West African International Summer School for Young Astronomers program since 2013 and I am now a Co-Director of the program. The school's goals are firstly to help build a critical mass of astronomers in West Africa and secondly, to enable exchange about teaching and learning between West African and international collaborators. 
From a scientist perspective, we want as many people from as many diverse backgrounds to do science because people think in different ways and make different discoveries. That's what the Schmidt Science Fellows program is all about, it's the belief that interdisciplinary science is one axis of difference between researchers. 
My Fellowship has helped me to build a network of contacts in new disciplines that I would never have previously been able to build. I have confidence knowing I enter my new role as an OzGrav postdoctoral research fellow with a network of people outside of my field that I can approach and ask for advice when I have new types of data I want to apply deep learning and machine learning. 
This article and film is part of the We Are Schmidt Science Fellows series, providing an insight into the science, motivations, and stories our of Fellows – watch the series here.