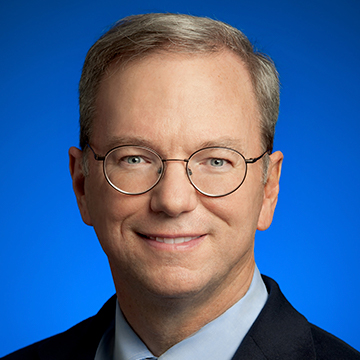 Eric Schmidt
Technical advisor to Alphabet, Inc., a member of its board of directors, and former executive chairman.
Read Bio
Schmidt Futures is a philanthropic initiative, founded by Eric and Wendy Schmidt, that seeks to improve societal outcomes through the thoughtful development of emerging science and technologies that can benefit humanity. Schmidt Futures works to advance scientific knowledge, drive the transformation of society through technology, and promote shared prosperity.
Since its creation in 1903, the Rhodes Trust has been a globally recognized leader in the selection and development of leadership in academia and society.
Through this partnership with the Schmidt Science Fellows program, the Trust is fulfilling its mission by identifying talented bright, young minds in the fields of science and engineering in order to improve upon their scientific expertise, leadership and management skills.
Before becoming Warden and CEO of the Rhodes Trust, Mr Conn was Senior Advisor to the Gordon & Betty Moore Foundation. At the Moore Foundation his conservation projects included the preservation of wild salmon ecosystems and the Palmyra Atoll biological research station. His investment company, Redjuice Capital, focused on technology and clean energy companies and he sits on several company and non-profit boards or advisory committees, including Patagonia, the Arcadia Foundation, the Oxford Internet Institute and the Atlantic Salmon Foundation. Charles is also a Professorial Fellow of Balliol College.
Earlier in his career, Mr Conn was the CEO of Ticketmaster-Citysearch, having co-founded Citysearch in 1995 and overseen the merger with Ticketmaster and the company's public share offering. Prior to starting TMCS, Charles was a Partner with McKinsey & Company, and a leader of its growth strategy and energy practices. In 2001 he was selected as a Henry Crown Fellow of the Aspen Institute.
Mr Conn holds a BA from Boston University and an MBA from Harvard Business School. During his time in Oxford as a Rhodes Scholar, he achieved First Class Honours in Philosophy, Politics and Economics. Mr Conn is a citizen of both Canada and the United States.
Eric Schmidt is technical advisor to Alphabet, a member of its board of directors, and former executive chairman.
Eric joined Google in 2001 and helped grow the company from a Silicon Valley startup to a global leader in technology. He served as Google's Chief Executive Officer from 2001-2011, and as chairman from 2011-2015. Prior to Google, Eric held leadership roles at Novell and Sun Microsystems, Inc. He holds a bachelor's degree in electrical engineering from Princeton University as well as a master's degree and Ph.D. in computer science from the University of California, Berkeley. He was a member of the President's Council of Advisors on Science and Technology. Eric is Chairman of the Department of Defense's Innovation Board and was awarded the Medal for Distinguished Public Service by Secretary of Defense Ashton Carter.
He is the co-author of The New Digital Age and How Google Works, and serves on the boards of the Mayo Clinic and the Broad Institute.
Eric was a member of the President's Council of Advisors on Science 2009-2017. In 2013, Eric and Jared Cohen co-authored The New York Times bestselling book, The New Digital Age: Transforming Nations, Businesses, and Our Lives. In September 2014, Eric published his second New York Times bestseller, How Google Works, which he and Jonathan Rosenberg co-authored with Alan Eagle. Eric became the Chairman of the Department of Defense's Innovation Board in 2016 and was awarded the Department of Defense Medal for Distinguished Public Service in January of 2017 by Secretary of Defense Ashton Carter.
Wendy Schmidt is President of The Schmidt Family Foundation, where she works to advance the development of renewable energy and the wiser use of natural resources. The Foundation houses its grant-making operation in The 11th Hour Project, supporting more than 150 non-profit organizations around the world in program areas including clean energy, healthy food systems and human rights. The Foundation also includes Schmidt Marine Technology Partners, which uses a venture philanthropy model to support the development of ocean technologies with compelling conservation and research applications as well as strong commercialization potential.
In 2010, Wendy co-founded 11th Hour Racing, to promote sustainability in the sailing and maritime industries, harnessing the power of sport through engagement with grantees, partners and ambassadors. 11th Hour Racing was the Exclusive Sustainability Partner for Land Rover BAR, the British team that competed in the 35th America's Cup in Bermuda. It is also a co-title sponsor with Vestas for the team currently competing in the 2017-18 Volvo Ocean Race, and serves as the Sustainability Founding Principal Partner of the Volvo Ocean Race.
In 2009, Wendy Schmidt and her husband, Eric, created the Schmidt Ocean Institute (SOI), and in 2012 launched the research vessel, Falkor, as a mobile platform to advance ocean exploration, discovery, and knowledge, and catalyze the sharing of information about the oceans. Since 2012, Falkor has hosted more than 500 scientists from 29 countries, has mapped nearly a quarter of a million miles of ocean floor in high resolution, and has hosted the discovery of new ocean features, ecosystems and species.
In 2010 and 2012, Wendy partnered with The XPrize Foundation to sponsor two multimillion dollar competitions that generated innovations to greatly improve surface oil spill clean up and to create a new generation of accurate and affordable ocean acidification sensors.
In the fall of 2017, Wendy and Eric Schmidt launched the Schmidt Science Fellows program, a post-doctoral fellowship that provides the next generation of leaders and innovators with the tools and opportunities to drive world-changing advances across the sciences and society. With an initial commitment of at least $25M for the first three years, the effort is the beginning of a broader $100M commitment to promote scientific leadership and interdisciplinary research.
Wendy Schmidt is the lead philanthropic partner for The Ellen MacArthur Foundation's New Plastics Economy Initiative (NPEC), which brings together a broad group of global companies, cities, philanthropists, policymakers, academics, students, NGOs, and citizens to rethink and redesign the future of plastics, beginning with packaging.
Wendy Schmidt earned an M.J. in Journalism from The University of California at Berkeley, and a B.A. magna cum laude from Smith College.
Sir John Hood is the President and Chief Executive Officer of the Robertson Foundation, and Chair of the Rhodes Trust. He also serves as a director on the Board of WPP plc; and as Chairman of BMT Group and Study Group Limited.
From 2004 to 2009, Sir John served as Vice-Chancellor of the University of Oxford. He served as Vice-Chancellor of the University of Auckland from 1999 to 2004.
Sir John earned a Bachelor of Engineering and a PhD in Civil Engineering from The University of Auckland. Sir John has been appointed a Knight Companion to the New Zealand Order of Merit.
Dr. Megan Wheeler has been appointed Executive Director after most recently being CEO of MindMap PLLC and Associate Professor at The Chicago School of Professional Psychology. With dual doctoral degrees in Physiology (Cognitive Neuroscience) and Clinical Psychology, Dr. Wheeler's career has been defined by a commitment to working on problems that know no disciplinary bounds and to directly impacting the lives of others. She received her DPhil in Physiology from Magdalen College at the University of Oxford, where she was a Rhodes Scholar, and her Ph.D. in Clinical Psychology from The Catholic University of America. She has held faculty positions at Dartmouth College, University of Oxford (St. Hilda's College), and The Chicago School of Professional Psychology, where she is the recipient of the university's 2018 national Distinguished Teaching Award for excellence in graduate instruction. She has published interdisciplinary research on topics ranging from the neuroscience of mindfulness to neuroscience and the law in top journals including Nature Reviews Neuroscience, Mindfulness (where she is an associate editor), and Scientific American Mind. Her work has also been featured on The Science Channel, the BBC, and in Newsweek. As a clinician, she founded an interdisciplinary clinic at the Washington, DC Veterans Affairs Medical Center that reduced wait-times from referral to diagnosis for Veterans with Alzheimer's Disease by 85%. She was recently named one of the Washington, DC area's "40 under 40 emerging leaders" by Leadership Arlington.
Matt Goode has been appointed as Director of External Affairs & Fellowship Support. His career has focused on research and innovation communications and engagement. He will join the team after having led communications for the launch of UK Research and Innovation (UKRI), the UK's new £6bn a year funding body. A key part of his role has been to develop strategies to strengthen interdisciplinary and challenge-led communications and engagement. Alongside his work on UKRI, Matt has been Director of Communications and Public Engagement at Research Councils UK. In this role, he has been responsible for leading the development and implementation of a collective communications and engagement strategy across the UK's seven Research Councils, for developing and leading a collective communications and public engagement function for the Research Councils, and for providing professional leadership to dispersed communications and engagement teams. Matt has over 14 years' experience in the research and innovation sector and has held a number of roles in communications, public engagement and external affairs. He has experience in managing high profile international media stories and has led the communications handling of multiple crisis incidents. Matt is a member of the Chartered Institute of Public Relations and holds an MBA from Warwick Business School.